I've been affected by the Five Boro Bike Tour a couple times in the eight years I've lived in New York: once when I was living in East Village and was invited to a post-race lunch nearby where my friends were celebrating their medals and I ended up paying way more than what I ordered because it was a big group and it was easier to split the check than line-item the receipt and that's when I said I'd never eat in a big party with them ever again, and another time when I was on my way to get bagels in Greenpoint and the road ahead of me was closed and people were cheering with cowbells and stuff. It didn't affect my ability to get bagels at all, I just felt like they were cheering me on as well.
The Five Boro Bike Tour was always on my to-do list, and since I fell in love with the Dutch's bicycling culture, and since I could easily access my bike at my new Bed Stuy apartment, and since I realized I never spent meaningful minutes on Staten Island, I decided 2019 seemed like a good year as any to get it off my list.
The weather app had been predicting rain on May 5, for ten straight days. On the morning of the race, it was accurate for once, and it was raining pretty hard. There was no way I'd do this, I thought, I didn't even really eat dinner the night before. And if lightning began to strike, it was all off.
I checked social media to see what people were doing, if anyone was even going, and if it was even worth it. I scrolled across a post by Al Roker, getting ready to bike these 40 miles across all five boroughs in the rain.
There was also no way I would let a man who shit himself in the White House do this thing while I lay in bed under the covers, especially after paying the registration fee. So I suited up, wore as much waterproof stuff as I could and hurried off to get to downtown Manhattan, cause my wave was about to go and they begin to shorten the route for traffic purposes later in the race.
The tour started off nice and pleasant despite the rain, and people were cheery up until we got into Harlem, I think. That's when reality set in for a lot of people, including me, that we were barely past the quarter way mark of the 40-mile race. My 3M rain jacket, light down vest, water-resistant sweatpants, and waterproof hiking shoes all eventually reached their saturation point and I was just one with nature.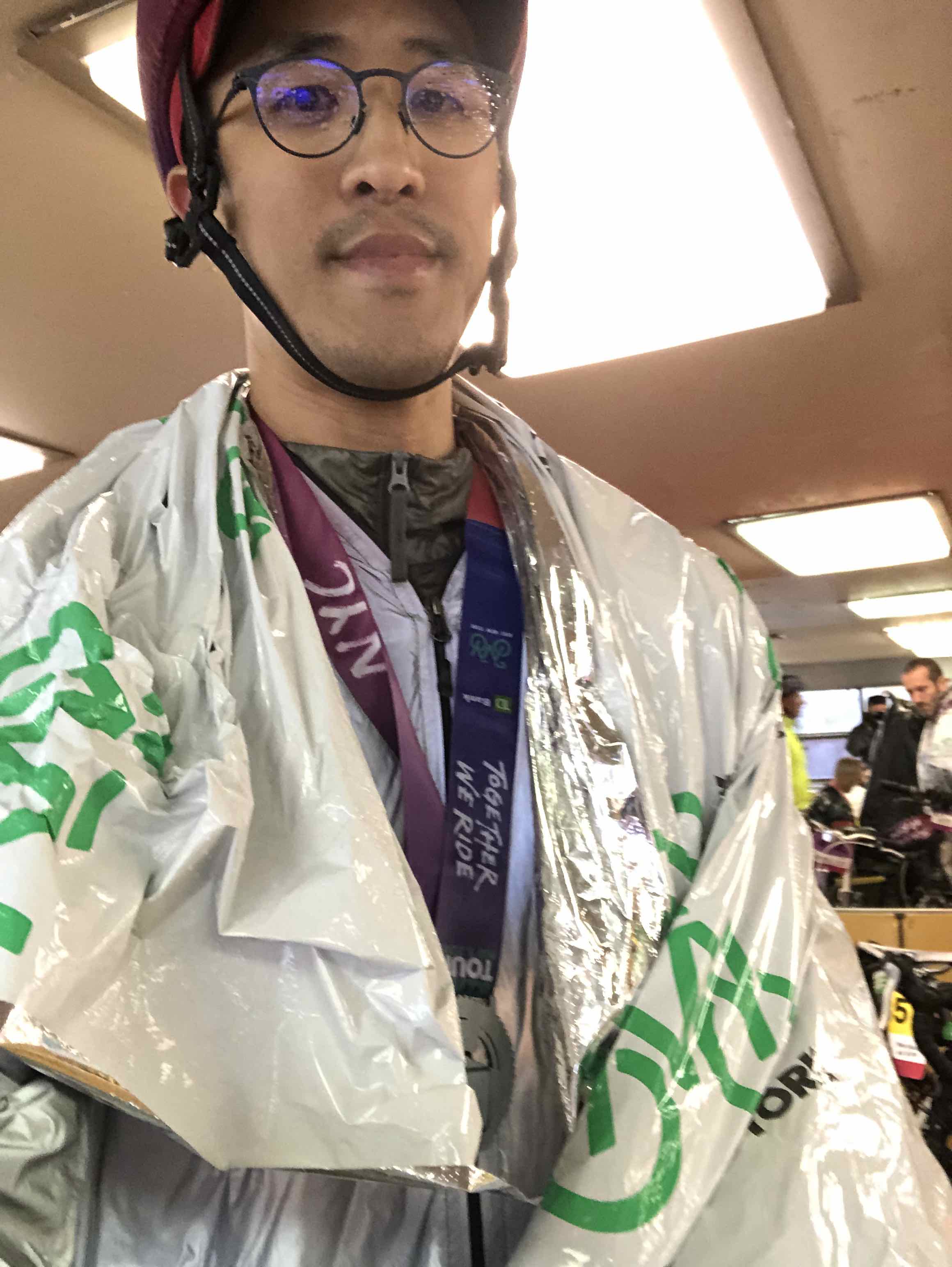 There wasn't much to do in the four hours, except to pedal the path and enjoy the occasional bands set up along the route to keep the good vibes going, so I had a lot to think about, like how when I still lived in Alief, I used to keep running diaries to keep track of my route, time, diet, and thoughts, on Google Maps.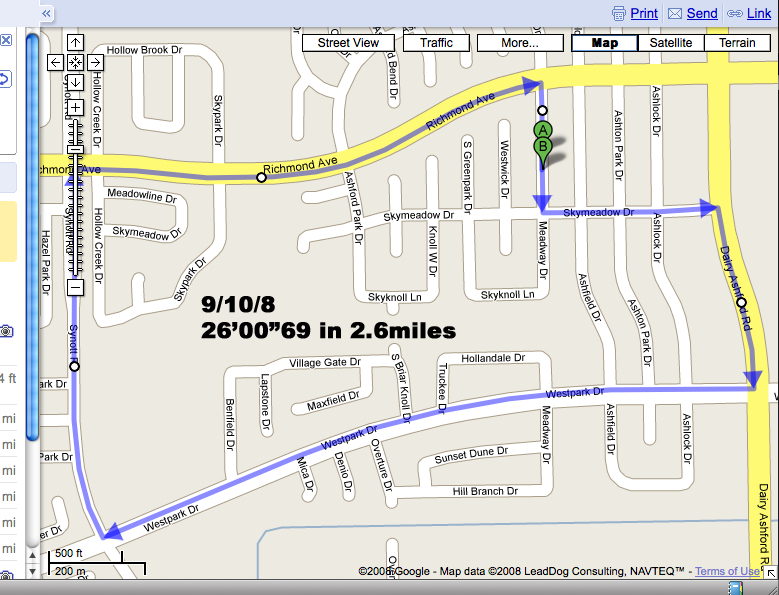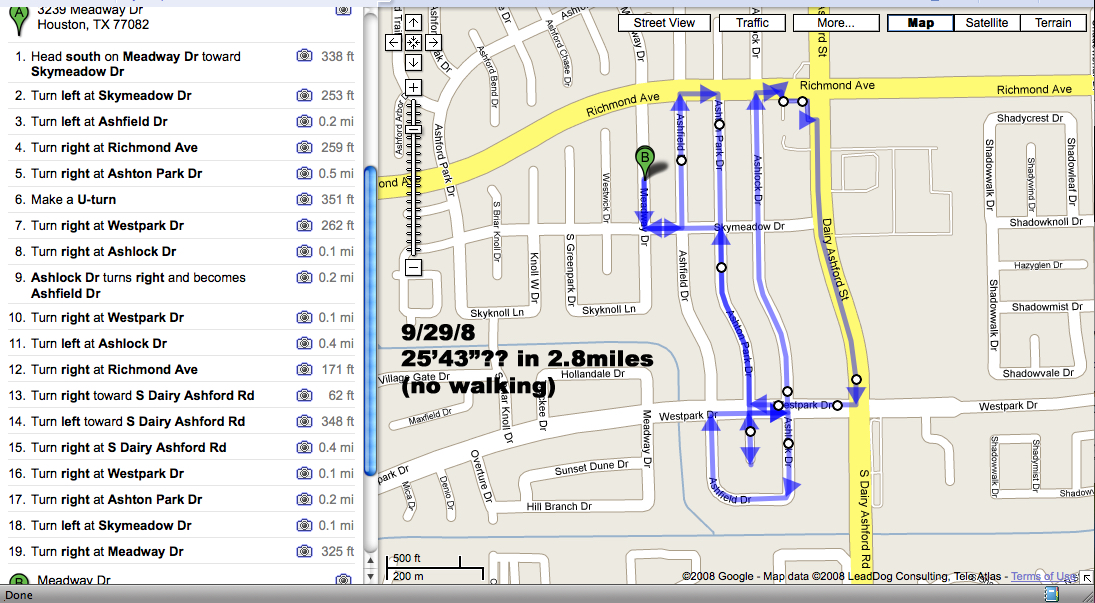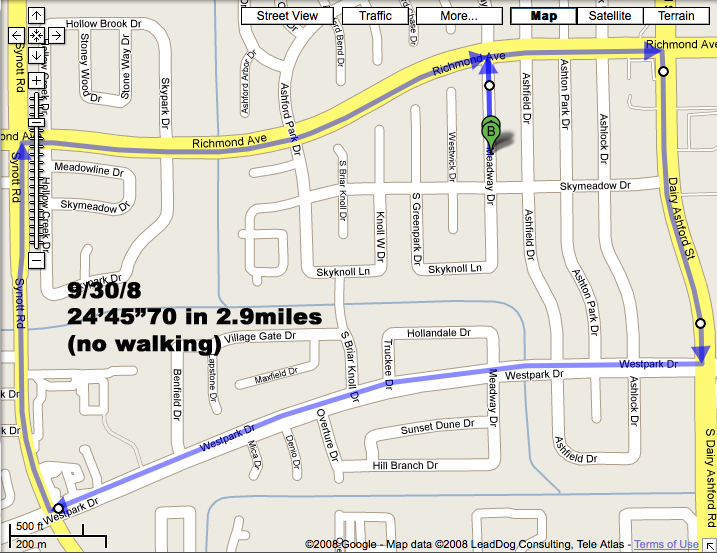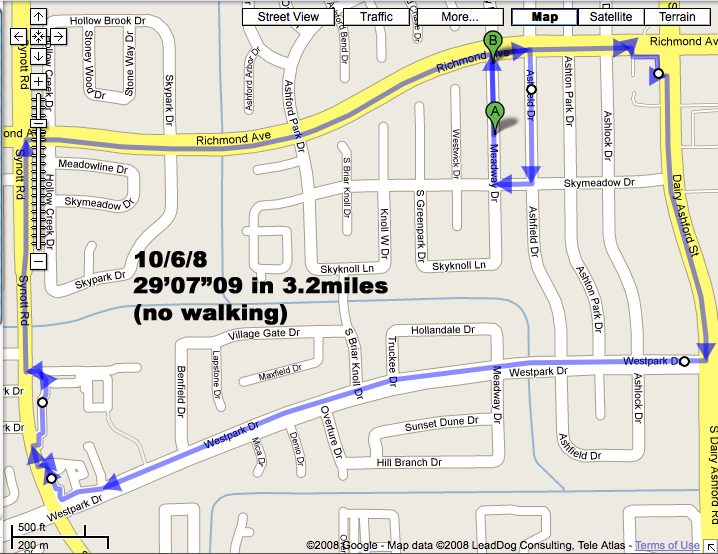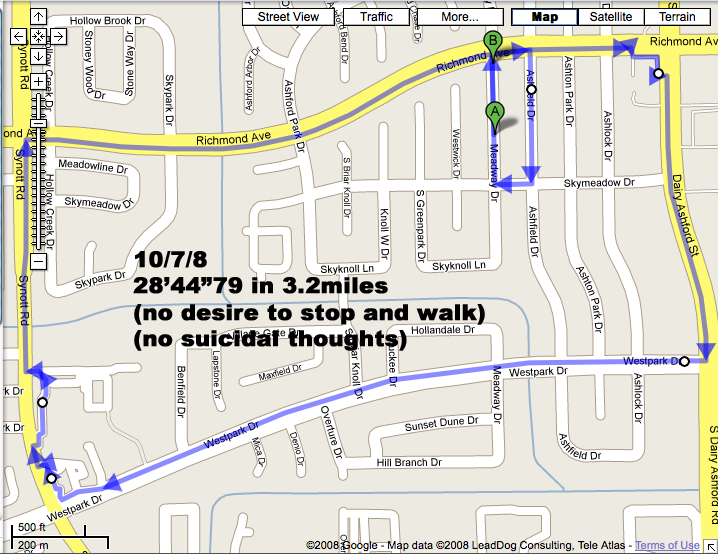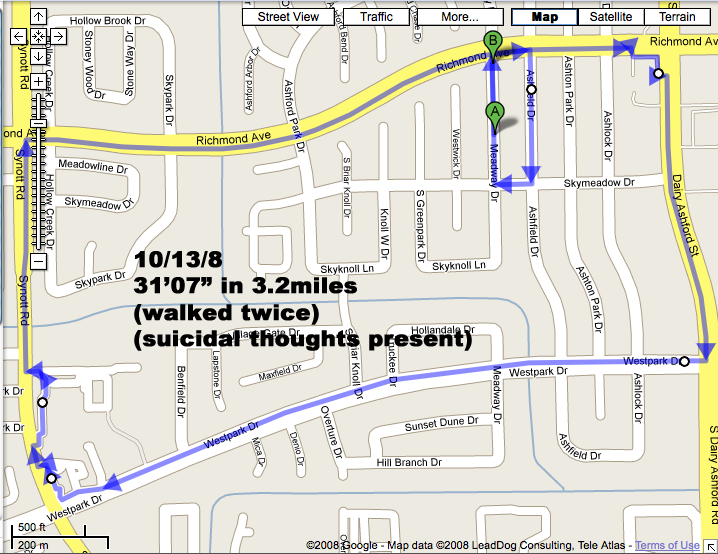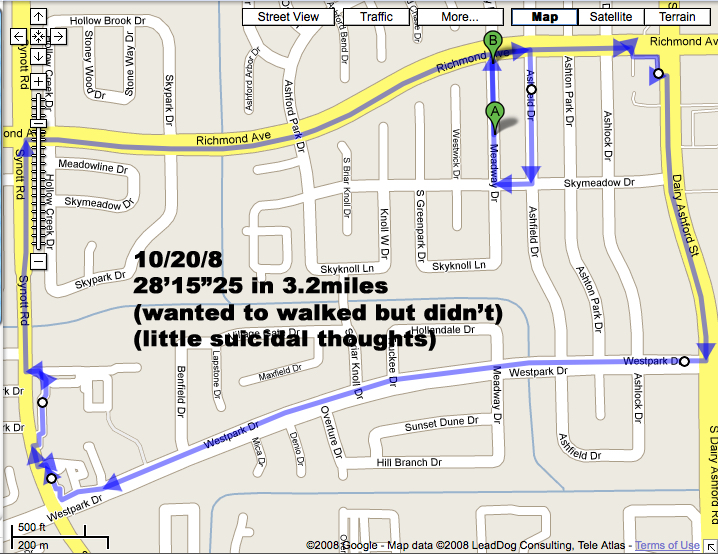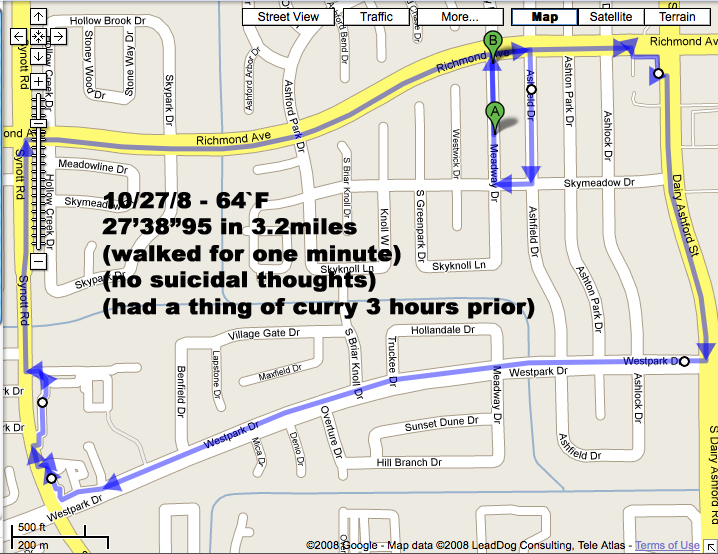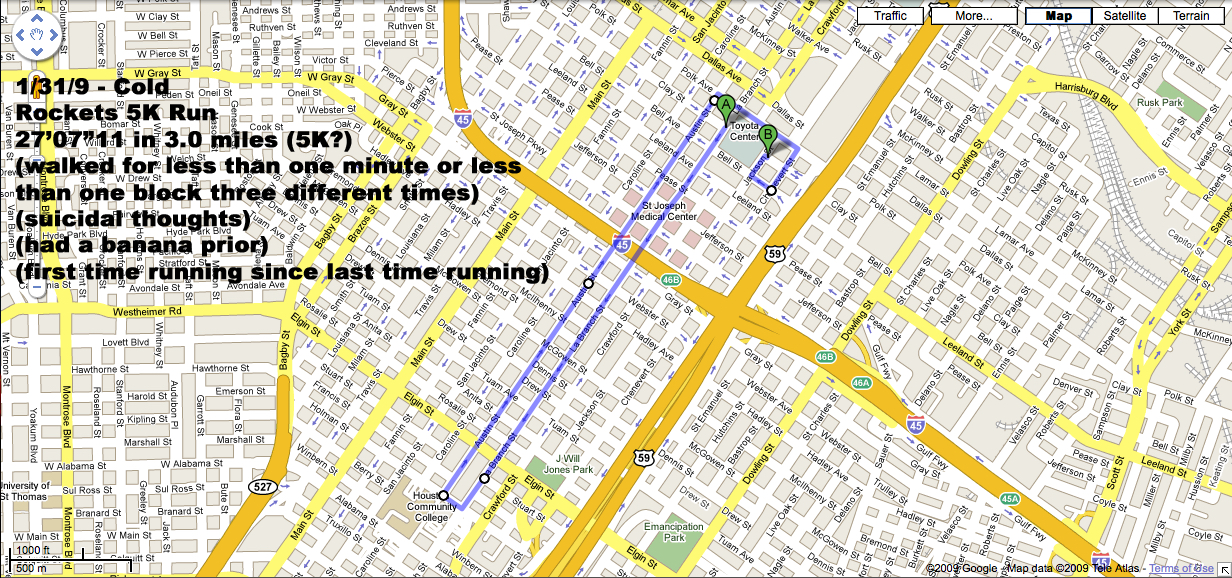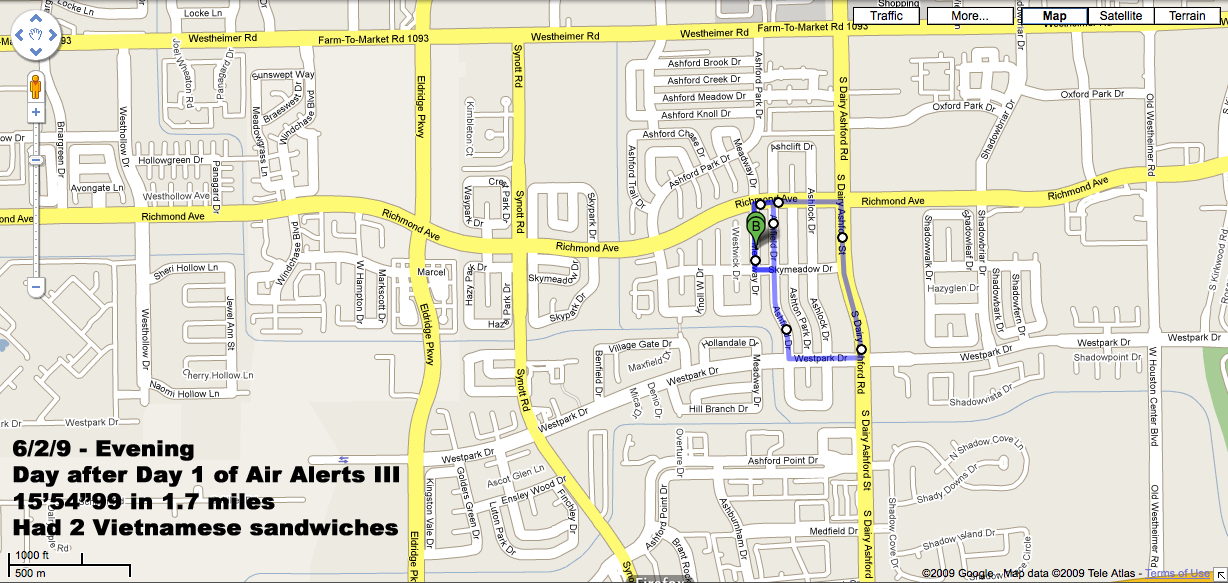 Just to be clear, though these maps say "suicidal thoughts," I never really have had genuine suicidal thoughts in my life. They were more expressions in the moment, like "I'd rather die than run right now." A bit dramatic, I know, but just an expression.
After enough casual mentions and talking like this, one of my best friends asked me if I was serious because it concerned her, a continent and ocean away. One of my other best friends has real suicidal thoughts and it gave me pause and made me realize maybe I should stop being so cavalier about it.
And near the end of the Five Boro Bike Tour, almost onto Staten Island, at the crest of the Verrazzano Bridge, by far the toughest part of it all, was a sign that simply said, "Life is worth living."
After getting off the Verrazzano-Narrows Bridge, I could hear the big party going on at foot of the bridge that indicated the race was over. I couldn't tell if I was a crying or if it was raining, but I was overwhelmed with emotion. I think I wanted to cry and was very close to it, but was also very cold, very tired, my legs were very cramped, and if I did cry, I'd lose even more vital fluids.
But I finally did it.
After I got the official medal and an emergency blanket, I realized there were, like, three more miles for the actual 40-mile finish to get onto the Staten Island Ferry. And by the greatness of my cousins who live in downtown Manhattan, I was able to shower, change into clean, dry clothes and get home safely.
Anyway, I wanted to dedicate the medal and my ride to all my friends who are suffering with mental health conditions who couldn't be there with me. It's physically tough to do a bicycle ride, sure, but to live with something that's invisible, often overlooked, and stigmatized is much, much worse. I love y'all and whenever you're up for it, we'll get dinner to celebrate, but in parties of four or less, cause anything above that is just easier to split the check than line-item the receipt.
Be good to one another and check in on your friends from time to time.